Clean WP Admin Menu Plugin Review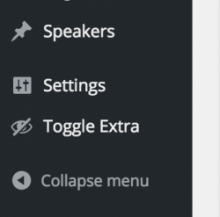 Today I wanted to review a plugin called Clean WP Admin Menu. It's a simple plugin that hides WordPress Admin Menu items.
As of writing this, I have 56 active plugins on this site. I wish that more plugins added their settings menus to the Settings menu item, but they don't. They create a new menu item. All of these menu items make your menu cluttered.
What Clean WP Admin Menu does is to menu a new item item, which acts as a toggle switch. It has a settings page where you can choose which items you want to remain shown and which ones should be hidden. The menu items that you choose to be hidden remain hidden until you press the "Toggle Extra" menu item, when then allows all of the menu items to show.
This is the perfect solution in my opinion. You can hide the menu items that you hardly ever use, and when you do need them, it's only a click away. A menu item that is hidden will remain shown if you are currently viewing a page within that menu.