How do I add a custom button image?
In the settings page you'll see a upload image button (image 1 below). When you press this the media uploader will open. Here you can upload a new image or pick one that you have already uploaded.
Once you have uploaded the image, find that image in the media uploader, click on it on expand its properties, and then click "Insert into Post" (image 2 below). This will close the media uploader and copy the URL of the image into the settings page text box.
If you want to change the image, just follow the same steps and the other image path will be replaced.
Image 1.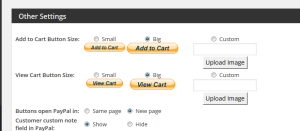 Image 2.

---
Rate this Article