The tools you need to succeed at every level
Welcome to the Resources section, this is a highly curated list of the tools and websites that I strongly recommend and personally use.
I frequently got asked for the tools that I used to run my business, so decided to make this list. The list contains both free and paid products.
– Scott (15 year software developer & owner of WP Plugin)
---
Marketing & SEO
Pixelcat – Facebook Advertising
Pixelcat is a paid Facebook Pixel plugin. This is useful if you want to show advertisements on Facebook to users that have previously visited your website, but not purchased. Setting up a Facebook pixel manually is difficult and this plugin makes it easy.
Pixelcat can be configured to only send information to Facebook when the user is on a certain page or performs a certain action. If you are running ads for your business, this plugin is very useful.
---
Easy Pricing Tables is a paid plugin that display beautiful pricing tables on your site. A pricing table is useful if you sell a product with different levels or plans such as bronze, silver, and gold.
You can see an example of the plugin to the right. The plugin makes it easy to show the benefits of each plan to your customers.
Note: You can use this plugin with our PayPal Buy Now Button Pro and PayPal Subscriptions & Memberships Pro plugins.
---
Yoast – Search Engine Optimization
Yoast is a free Search Engine Optimization (or SEO for short) plugin. I use this on all my sites. Yoast allows you to set a focus keyword for each page, and then tells you exactly how to write to make that page show up high in search engines like Google.
The plugin also includes features like a sitemap and social (Facebook, Twitter, etc) sharing. A must have plugin.
---
Domain Names & Hosting
NameCheap.com is a paid website where I buy my domain names. I have tried a lot of other domain registrars over the years and what I like about NameCheap is that I pay $10 every year for my domains.With other companies the first year is $2, and then it goes up to $15 from then on.
I have had great experience with their support. I also buy my SSL certificates through their site. I would not recommend relying on free certificates like Lets Encrypt.
---
DigitalOcean.com is paid website where I host this website, and have for the past 3 years. Their servers are amazingly powerful and I only pay $5 a month for hosting. Keep in mind that their hosting is better suited for developers and programmers.
If you are looking for non technical hosting, but with a server still on DigitalOcean, I would recommend CloudWays.com.
---
Speed & Security
Autoptimize is a free plugin that I use on all of my websites. It makes your site load much faster. It does this by combing files (CSS and JavaScript) together.
You can also setup Autoptimize to work with a Content Delivery Network (CDN). A CDN is a service that automatically puts your site content in multiple locations around the world. So if your server is located in New York, USA but a person visits your site from Sydney, Australia then the images on your site will be loaded from that location. CDN's automatically update content from your site. I personally use Amazon's AWS CloudFront CDN.
---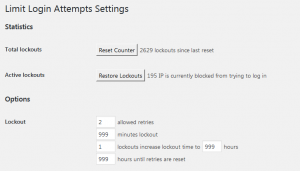 Limit Login Attempts a free plugin. It is always the first plugin that I install on any site. This plugin works by stopping people or robots from trying to login to your site.
It works by banning their IP address for a certain number of hours after X number of failed login attempts. You can setup the plugin to whitelist your own IP address so that you will not get banned yourself.
I recommend that every website use this plugin! It has literally stopped tens of thousands of malicious logins to my sites. If you only use one plugin from this list, use this one.

---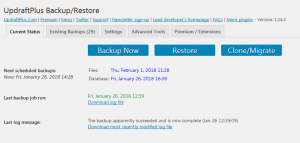 UpdraftPlus is a free plugin. I recently discovered UpdraftPlus after years of struggling with custom coded backup solutions. It is a backup plugin that stores the backups offsite (in another location). I setup my sites to automatically backup to Amazon AWS S3 every X hours for both files and database.
Amazon S3 only costs me about $3 a year to run because I configured UpdraftPlus to only hold onto a backup copy for X days, after which is it delete. So it's basically a consistently rolling backup.
---
Documentation
WP Knowledgebase is a free documentation plugin. This is what I used to create the documentation section on this site. I like this plugin because it looks good out of the box and has worked well.
The plugin includes a good AJAX (instant without refresh) search so finding articles is easy. The backend includes a hit count of how many people have viewed an article.
---